I want to start by saying that I'm not a health expert and I don't like to give out diet advice because that's not my expertise, but I do consider myself a relatively healthy eater (most of the time), and I definitely enjoy snacks! These are some of my favorite go-to snack ideas that help me stay on track and satisfied during the day. If I don't snack I usually get a little bit hangry– haha! I try to keep my house stocked-up with plenty of healthy snacks so I don't resort to the drive-thru or junk food!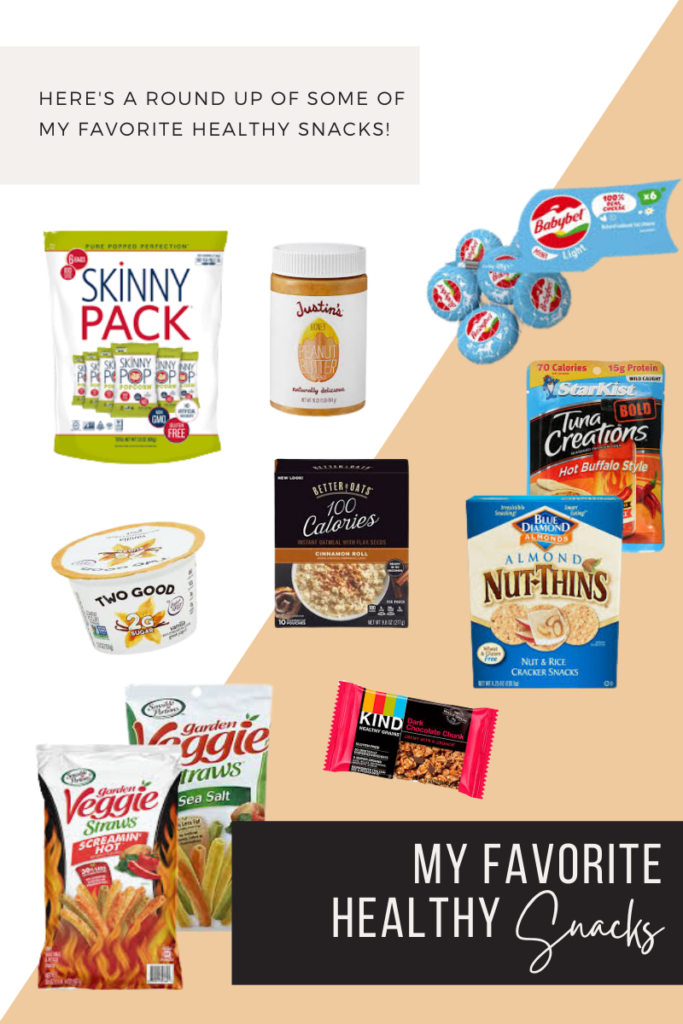 Veggie Straws– If you like a crunch and salt, I bet you'll enjoy these! They come in several flavors including sea salt, ranch, cheddar and screamin' hot. I like them all!
Mini Babybel Light Cheese– I love cheese and these are so good! Easy to take on the go too!
Kind Granola Bars– I'm not a big granola bar fan because they are usually sugar-filled. These Kind granola bars are made with natural ingredients.
Skinny Pop Popcorn Mini Bags– When I'm on the go, this is what I reach for.
Justin's Natural Peanut Butter– This natural peanut butter is a little pricey, but so worth it in my opinion. I love spreading it on English muffins or adding a spoonful to my oatmeal.
Two Good Yogurt– A new fave! I love adding blueberries and a bit of granola. It's so filling and the perfect sweet treat!
Better Oats 100 Calorie Oatmeal– Love this as a mid-morning snack. Very filling!
Tuna Creations– The variety of flavors is great! My favorites include hot buffalo, sweet and spicy, and ranch. I mix in a little bit of miracle whip and relish, or smashed avocado and pair with crackers or veggies. It's an easy way to get some protein in!
Blue Diamond Almond Nut-Thins– These are a great cracker alternative! I eat these with hummus, tuna, or cheese. So so good!