It shouldn't come as a surprise that most of my all-time beauty faves are super affordable… after all, I'm working with a teacher salary! Of course I love to splurge every once in a while, but there are some really good quality products at a reasonable price point! These products have been part of my daily makeup routine for a long time and are less than $30!
All of these products can be found at Target, Walmart, Ulta and Sephora.
Let's get started!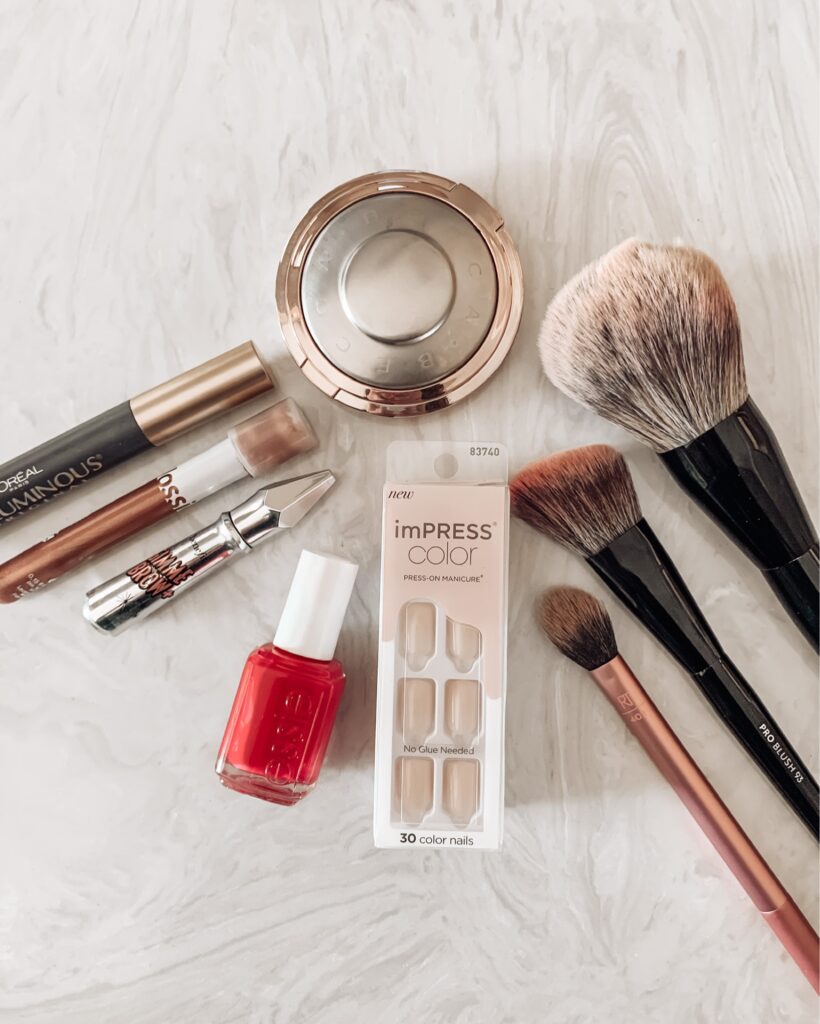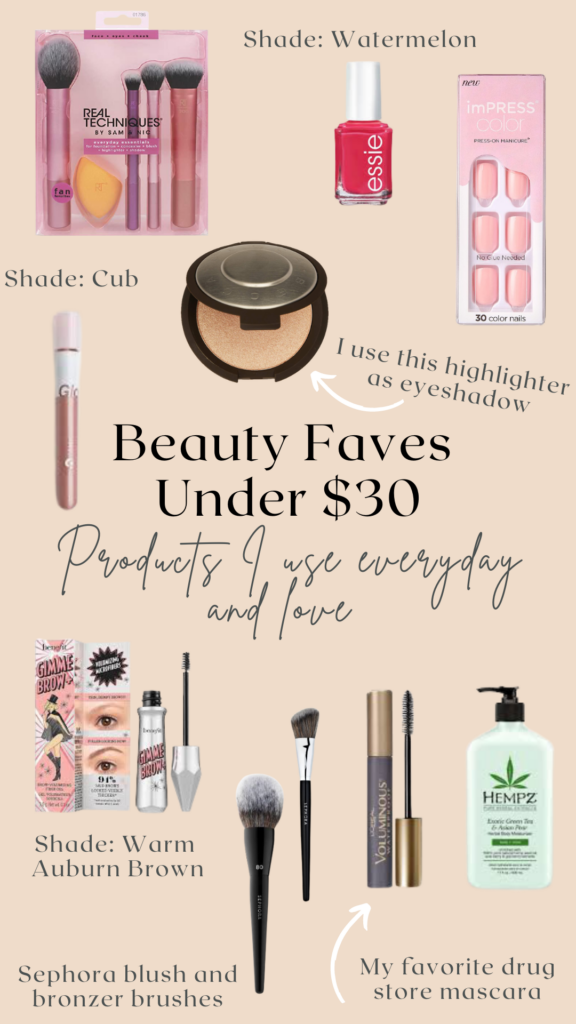 Real Technique Brush Set: I use these brushes to apply eyeshadow and translucent powder. They clean easily and are great quality. I don't like to spend a lot of money on brushes because I change them out every year! These retail for $19 at Ulta.
essie Nail Polish in shade Watermelon: This is one of my all-time favorite polish colors and essie is my go-to brand. I have tiny nails and essie polishes have tiny brushes! This retails for $9 at Target.
Becca Highligher: I use this highlighter on my upper eyelids, over the Glossier Lidstar Eyeshadow. It gives my eyes some life and looks very pretty and soft! Travel size retails for $22 at Sephora. Lidstar retails for $19.
imPress Press On Manicure: These are a new favorite! I'm giving my nails a break from gel/dipped. These are a great alternative when I have a special event that I would normally get my nails done for. They apply easily and the removal is easy too! For $8 they look like a real manicure!
Benefit Brow Gel: I like to keep my makeup routine as quick and easy as possible, especially during the work week. Brows can be time consuming, but not with this brow gel! Goes on in seconds and looks super natural! Retails for $24 at Ulta. Lasts forever!
Sephora Brozer and Blush Brush: It's no secret that I love Sephora brushes! I've been using them for years! They hold up great, clean nicely, and just over-all a great quality at an affordable price. The blush brush retails for $30.
L'Oreal Paris Mascara: This is a drugstore favorite. I've been using it for a year now and have no plans to switch to anything else! Retails for $7 at Walmart.
Hempz Body Lotion: I've been using Hempz lotion as long as I can remember. At least 10 years now! I always ask for a new bottle for my birthday or Christmas. It is the most hydrating lotion and I love all of the scents. I don't use fragrance on my face, but don't mind it in a body lotion. Retails for $28 at Ulta.
When it comes to makeup, I only splurge on my foundation, foundation powder, blush, and lipgloss (I've talked about my fave Dior). Everything else is mostly drug-store grade! I hope you found this helpful. If you have any questions, leave a comment below!
Love, Ericka