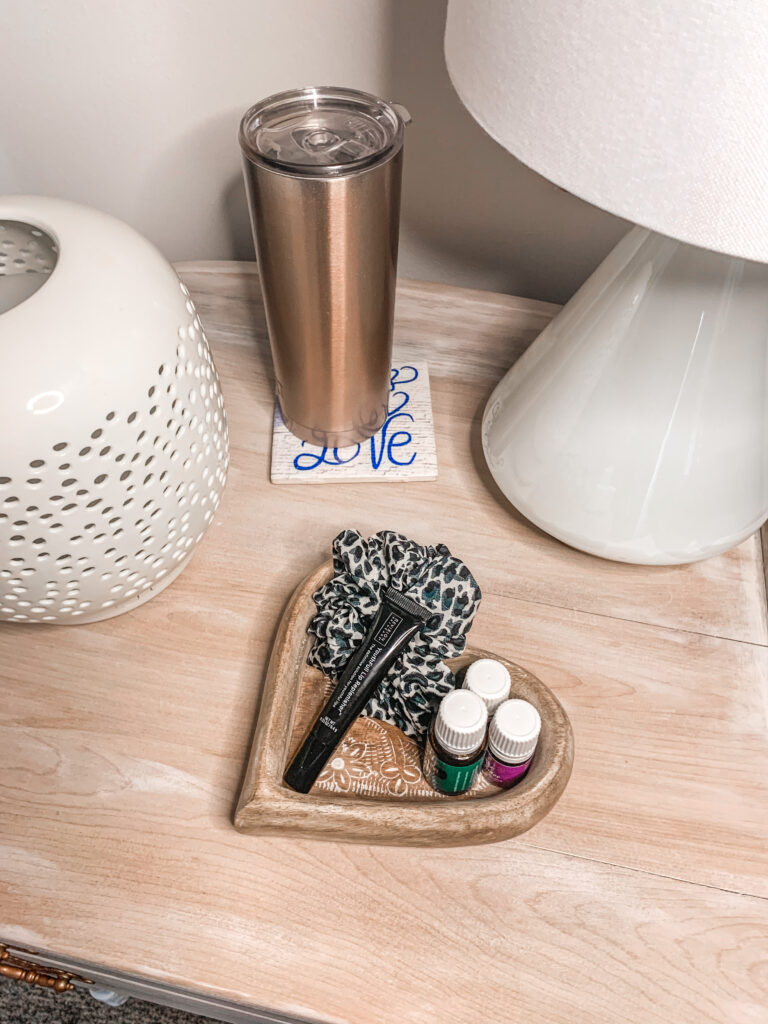 If you are anything like me, you appreciate a clean, organized nightstand, but it's also nice to have favorite night time essentials within arms reach. As with most things in life, it's a balancing act!
*I show you step-by-step how I refinished this nightstand here.
It's no secret, this is my favorite item on my nightstand. It is an integral part of my nighttime routine. Diffusers can be expensive, but this one is at a reasonable price point– in fact, it's only $30 at Target!
Kate Spade Lamps from HomeGoods
When it comes to HomeGoods, if you see something you like you better jump on it. The chances of it still being there the next time you go are next to none. I had been in the market for lamps for over a year but could never find the perfect ones. I'm so glad my patience held up. I found a matching set of white ceramic lamps for just $30 a piece. I couldn't pass them up… I'm sorry I don't have a link to share with you!
I didn't splurge on a diffuser, but I do when it comes to my oils. Quality over quantity in my opinion. Young Living offers quality oils that have many health & wellness benefits. My favorite is the peppermint oil. I have lots of seasonal allergies and this seems to help, especially when I diffuse before bed! It retails for $25 but lasts a long time!
Hemps has been my go to lotion for as long as I can remember. It is replenishing and doesn't leave an oily film, which is my preference.
I wish I could say this bad boy was filled with water… but chances are it's probably filled with coffee 99% of the time! I need to be better about hydrating. This was purchased at Walmart for $8. Can't beat this deal!
Leopard Print Scrunchie
You can find these anywhere! I got mine from Ulta a while back! I only use silk scrunchies because they are less damaging.
This is a newer item to my nighttime routine. I was influenced to purchase this item. Prior to using this lip replenisher, I used Aquaphor (which I still use during the day and love), but after reading about the benefits I had to try it. I've been very impressed! It's a bit pricey at $35 but that's quality skincare for ya.
This is actually my favorite item on my nightstand. It's so important to talk to God before bed and this is a wonderful way to dive into scripture. I love the journaling component. $50 and I can't say anything but great things!
Wooden Heart Tray
I wanted a simple, pretty way to store my small items on my nightstand– and this does the trick! Mine was purchased at Marshalls, but you can find them on amazon and other home decor stores. It add some personality in a very simple, clean way. I just love it!